11 Reasons Why You Should Choose Dr. Ian S Goldbaum as Your Podiatrist
Do you have foot, ankle or leg pain that is preventing you from living your best life? Are you looking for the best podiatrist in the Palm Beach County area? Then you've probably heard of Dr. Ian S Goldbaum and Delray Beach Podiatry. Now, you are wondering, "should I choose Dr. Goldbaum and Delray Beach Podiatry for my foot and ankle care needs?" The answer is a resounding yes, and here is why…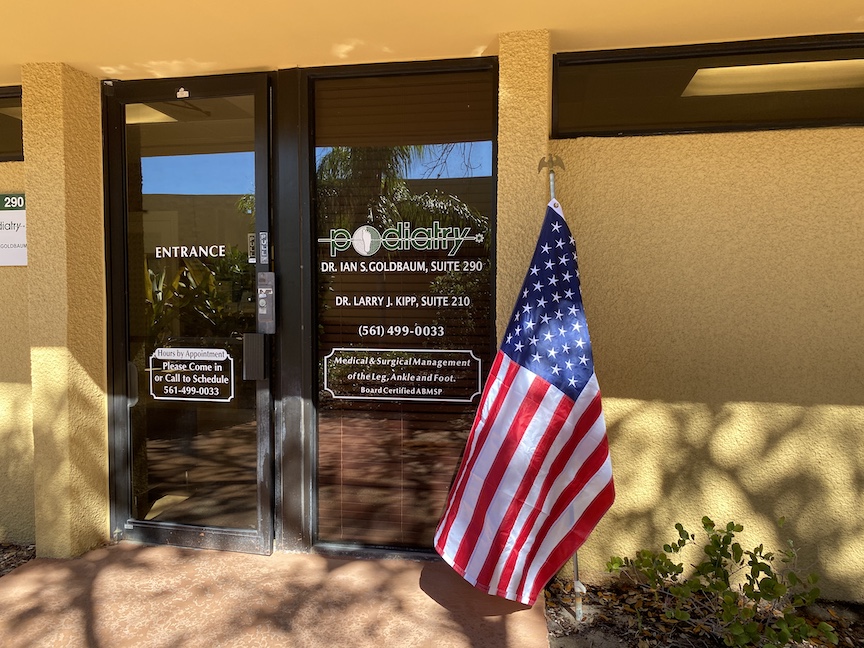 11 reasons why you should choose Dr. Ian S Goldbaum and Delray Beach Podiatry for your foot and ankle care needs
Here are eleven reasons why you should choose Dr. Ian Goldbaum and his team at Delray Beach Podiatry if you need podiatric healing:
1. Dr. Ian Goldbaum is one of the top podiatrists in Palm Beach County
If you want fast, effective results, it's important that you choose the right podiatrist. You want a podiatrist with experience and good credentials.
Here are a few credentials that make it clear Dr. Goldbaum is a world-class podiatrist:
a) Dr. Goldbaum has decades of experience. He uses advanced diagnostic skills and technologies to provide fast and effective results for his patients. Over the years, he has brought relief to thousands of patients, many of whom attempted other means of medical care before undergoing the correct treatment at Delray Beach Podiatry.
b) Dr. Goldbaum is board-certified in all areas of leg, foot and ankle medical and surgical management, such as wound care, podiatric surgery, podiatric medicine, and treatment of diabetic foot.
c) Dr. Goldbaum is a member of the American Pediatric Medical Association (APMA), which is an organization of podiatrists committed to attaining the highest levels of education, treatment, and advancements in the area of podiatry. Only the most elite and highly trained podiatrists are accepted into the APMA.
He is also a member of the Florida Podiatric Medical Association, Palm Beach Podiatric Medical Association, and American Board of Multiple Specialties in Podiatry (ABMSP).
d) Dr. Goldbaum is a consultant for various organizations and programs, such as the United States Federal Medicare Program on Diabetic guidelines for footwear manufacturing, Microvas Corporation (Treatment of muscle and nerve pain) Circulator Boot Corporation, American Board of Multiple Specialties (generating examination questions), Co-medical Director for First Frontier – Neurvasia Medical Food for Neuropathy Pain.
Furthermore, Dr. Goldbaum is a lecturer for a diverse range of companies, products and topics as they relate to foot and ankle care. This includes Novaris Synthetic Wound Grafts, Ossatron Extracorporal Shock Wave Treatment, and Biomechanics and Kinesiology pertaining to the lower extremity. Many of his lectures cover scientific breakthroughs in Podiatric Healing.
Additionally, Dr. Goldbaum has created and directed different programs, like the Hyperbaric Wound Care Program for Bethesda Hospital and Comprehensive Podiatric Mobile offices for Skilled Nursing Facilities and Adult Living Facilities.
All of this conveys Dr. Goldbaum's level of expertise is above and beyond most others in the field. It also shows he has a strong desire and dedication to improving the podiatry medical field, so patients can receive the best possible care. He is a forward-thinker, always studying and discussing technological and procedural advancements in podiatric healing with other world-class podiatrists.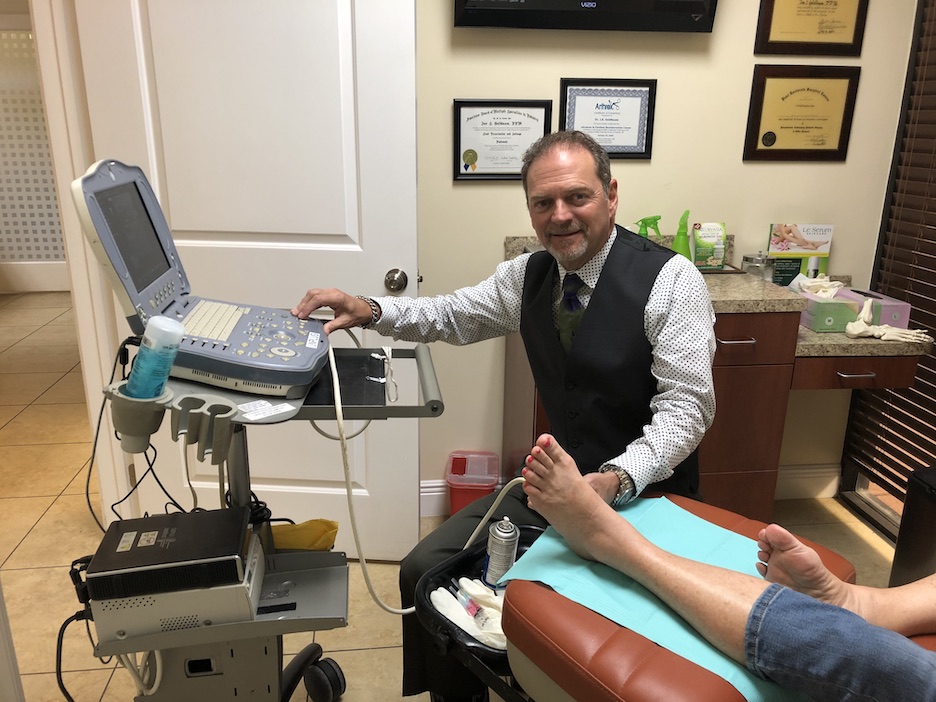 2. State-of-the-art Foot Surgery Facility & Latest Podiatry Technology
Dr. Ian Goldbaum's podiatry office has a complete suite of state-of-the-art diagnostic and treatment options. Very few establishments in the area offer the same level of advanced techniques and technologies as Delray Beach Podiatry.
Delray Beach Podiatry's leading technology allows for comprehensive care, better serving patients with accurate and fast diagnosis and treatment of foot and ankle pain.
So, whether your foot, ankle or lower extremity condition or pain is common or uncommon, Delray Beach Podiatry has the technology to make you feel better in a fast and effective manner.
3. Integrative, Comprehensive Foot Care
Dr. Goldbaum and his team of podiatrists take account of the patient as a whole, considering their entire body and all of their needs, including all aspects of their lifestyle. This personalized care ensures the best treatment options are given based on each individual. Overall, it leads to positive results and it makes visiting Dr. Goldbaum a pleasant experience.
4. Education for the Patient
Unfortunately, many doctors don't feel the need to educate their patients on the matter at hand. They make a quick diagnosis and explanation for the course of action. This is because they feel their credentials speak for themselves and trust should automatically be given. Ultimately, their goal is to get the patient out of the door and move on to the next as quickly as possible.
This is not the case with Dr. Ian Goldbaum and Delray Beach Podiatry. Dr. Goldbaum will patiently educate you on the diagnosis, your options, and the treatment process.
At Delray Beach Podiatry, you start with an initial consultation to determine the nature and extent of your pain or problem. During this time, Dr. Ian Goldbaum will ask you questions and you can ask him any questions you may have (ideally, you should prepare a list of questions to ask). After that, he will give you sound medical advice, based on his extensive experience and the latest research developments. In the end, you will have all the information you need to make an informed decision on how to care for your foot or ankle problem.
When patients are knowledgable about their foot care and potential treatment options, it is easier to identify how they want, or don't want, to receive their care. All in all, a knowledgable patient is a happy patient.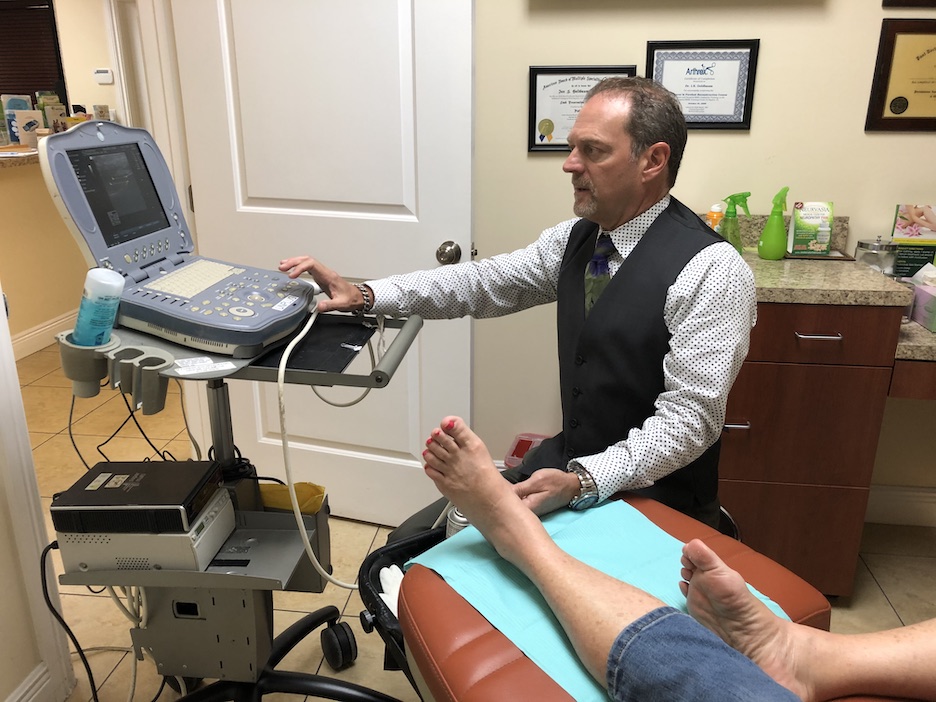 5. Advises The Best Course of Action
Dr. Ian Goldbaum will always lay your best options on the table. He will never recommend invasive surgery when there is another treatment that works just as well. Sadly, there are doctors who do this because they are trying to line their pockets…
Delray Beach Podiatry has your best interest at heart and will only recommend the optimal and leading course of action to relieve your pain and suffering in the safest, fastest and most effective way.
6. Commitment To Providing Exceptional Customer Service
Delray Beach Podiatry is committed to providing the highest level of customer service. Dr. Goldbaum aims to make patients feel comfortable so they can clearly explain their foot problems and concerns or ask any questions. He won't rush you. He is respectful, diligent, and never condescending. Dr. Goldbaum naturally pays close attention to your needs.
Moreover, the excellent customer service extends to his staff. The staff at Delray Beach Podiatry will treat you with the utmost courtesy when booking your appointments, calling you with questions, or greeting you when you arrive at the office.
7. Great Office Environment
At Delray Beach Podiatry, you will experience a pleasant and peaceful surrounding and atmosphere. All of our doctors and staff are friendly, welcoming, and patient. Our state-of-the-art facility is thoroughly cleaned and sanitized on a regular basis. Moreover, our office smells good. Cleanliness is extremely important to us, as is your comfort. Ultimately, our goal is to provide you with an amazing experience while curing your foot or ankle pain.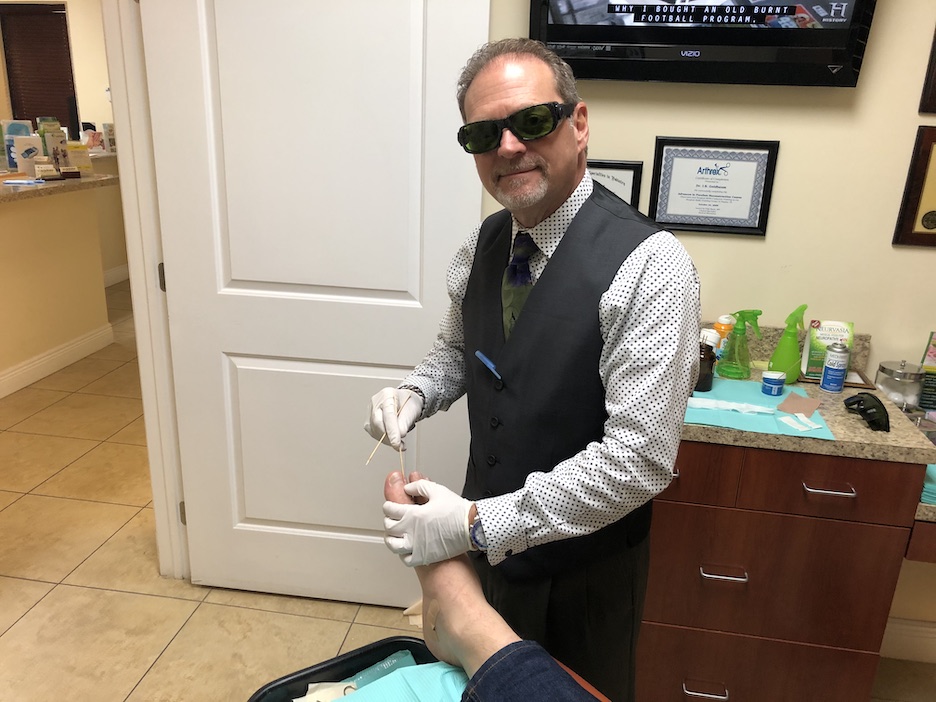 8. Strong Team of Podiatrists
Delray Beach Podiatry's entire staff is competent and knowledgable, and all of our podiatrists have extensive education and experience, along with impressive credentials.
Podiatrists at Delray Beach Podiatry include:
Dr. Ian S Goldbaum
Dr. Larry J Kipp
Dr. Daniel Gabe
The reasons you should choose Dr. Ian Goldbaum also extend to the whole team of Podiatrists at Delray Beach Podiatry.
Read about the education, work history and credentials of all the Podiatrists at Delray Beach Podiatry
9. In-network Insurance
Dr. Ian S Goldbaum's practice is in-network, so he accepts every kind of insurance. For those who have to pay out-of-pocket, Dr. Goldbaum will do his best to figure out a way to meet your needs.
Dr. Goldbaum and his staff are completely transparent about the insurance process and out-of-pocket prices for those who may not have insurance. So, do not hesitate to call us – (561) 499-0033 – or contact us if you have any questions.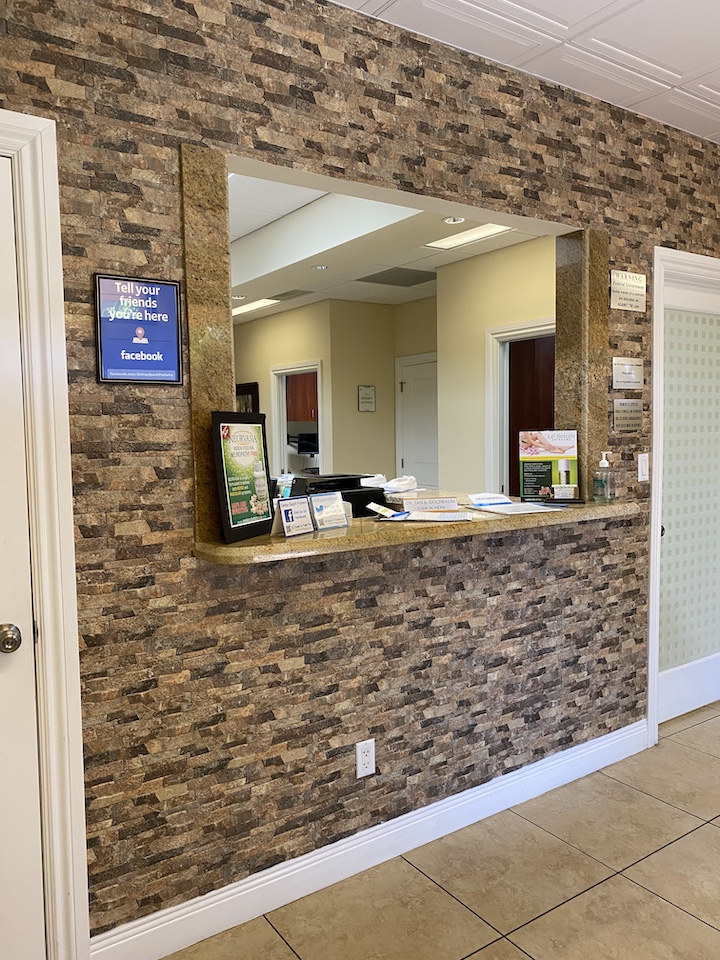 10. Dr. Ian Goldbaum & Delray Beach Podiatry Have Great Reviews
Online reviews and public feedback are an essential research tool for healthcare consumers. It is typically one of the first steps to selecting a doctor. Patients' satisfaction and a doctor's competence can be measured quickly though rating and review sites. It allows you to get an understanding of other patients' experiences, which includes everything from booking an appointment and insurance options to dealing with the doctor's staff and the doctor's treatment and procedures.
Dr. Goldbaum has hundreds of positive reviews across various business directories like Google, Yelp, Health Grades, and Facebook.
For your convenience, here are some testimonials and reviews on Dr. Ian Goldbaum and his practice:
"Dr Goldbaum isn't able to give me new feet, but he has made my old feet feel brand new. Now I don't dread every step I take during the day."

Facebook
"Dr. Goldbaum is a brilliant podiatrist and I have complete confidence in him. Office staff is professional and attentive. The newest proven techniques are implemented as well as utilizing the best diagnostic tools. After being treated by another podiatrist and not getting a full diagnosis, I feel so fortunate to have been referred to Dr. Goldbaum and would not hesitate to refer him to family and friends."

Google
"From the moment I stepped in the office I was impressed. Staff was so friendly, office was clean and bright. Dr. Goldbaum was friendly and I felt like I've been seeing him for years instead of it being my first visit. He explained to me my foot problem and what the best treatment would be. I left the office feeling good and confident in him."

Health Grade
"Dr. Goldbaum, his team, and his office are all top notch. I called last minute to see if they could squeeze me in for an emergency appointment. I was in the office 30 minutes later. Dr. Goldbaum set me up with a treatment plan and instructions for successful healing. I have made a full recovery. The team will treat you with great care and will patiently respond to all questions. Thank you Dr. Goldbaum! Best podiatrist around. Highly recommend!"

Google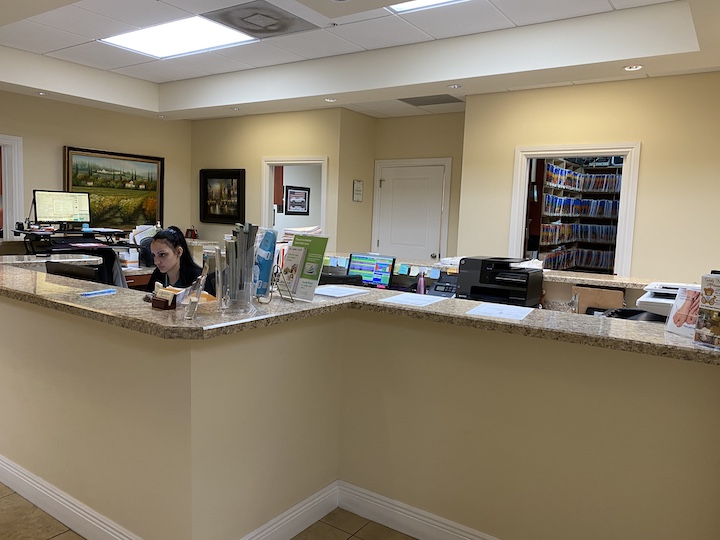 11. Easy Appointments & Getting Properly Scheduled
This may not seem like a great benchmark, but if you've ever experienced a situation where you sit in a doctor's office for hours, waiting and waiting, as you watch other patients move in and out, then you understand how important this is.

At Delray Beach Podiatry, not only do we make sure booking an appointment is simple and easy, but we also make sure that you will be seen in a timely manner and at the time you booked. In the end, it's not about how busy a doctor's office is, it's how organized they are and how well they facilitate the process. We pride ourselves on being organized and never letting our customers become disgruntled, no matter how busy we are. With over 30 years of experience, Dr. Ian Goldbaum knows exactly how appointments should be managed.
Note: You can book an appointment online with just a few simple clicks. Book Now.
Want to talk to someone? Feel free to call us at (561) 499-0033 during our hours of operation. We always have someone on staff ready to answer your call.
When to see Dr. Ian S Goldbaum?
Dr. Ian Goldbaum specializes in medical and surgical management of the Leg, Ankle and Foot. So, if you have any issues with your foot, ankle or leg, Dr. Goldbaum is who you should see.
Common foot problems Delray Beach Podiatry treats:
Foot and ankle injuries
Foot surgery
Wound care treatment
Diabetic foot treatment
Ingrown toenail surgery
Gout
Arthritis
Flat feet
Hammertoe
Bunions
Plantar fasciitis/heel pain
Heel spur
Sports injuries
Athletes foot
Stone bruise
Achilles Tendonitis
Read about Delray Beach Podiatry services
Dr. Ian Goldbaum and his staff promise to provide individualized, effective treatment in a friendly, clean environment. You will never feel rushed, pressured or treated like a number. Moreover, all of your questions will be answered and you will be fully educated on your foot and ankle treatment. The best course of action, with plenty of detailed information, will be provided so you can make an informed decision on your treatment.