Delray Beach Podiatry Services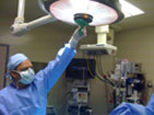 As a Board Certified Podiatric Specialist Dr Golldbaum focuses on the surgical and non-surgical healing of the foot, leg and ankle. For the last 3 decades he has used his advanced diagnostic skills and technologies to deliver fast effective results to his patients.
Dr Goldbaum's intense desire to study and lecture on scientific breakthroughs in Podiatric Healing has brought relief to thousands of patients. Many of his patients had tried all means of medical care before seeing Dr Goldbaum for the correct treatment.
Diabetic Foot Care
Synthetic grafts for ulcerations
Nerve Conduction Study…Non-surgical evaluation for nerve pain
Ossatron High Energy non-surgical Heel Spur Wave treatment
Orthopedic Problems
Computer dynamic walking Scan Analysis
Dermatological problems