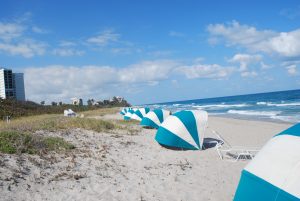 After expanding north to Boynton Beach in 2000, Dr. Goldbaum made the decision to turn his attention south in 2017, opening the third office of his expanding practice in Boca Raton, the Boca Raton Podiatry Center.
The coastal city of Boca Raton is located in Palm Beach County, Florida, about 20 miles north of Fort Lauderdale, 50 miles north of Miami and 30 miles south of Palm Beach.
With 46 parks, Boca Raton has earned the nickname the "City Within A Park."
Boca Raton is also home to the main campus of Florida Atlantic University and Lynn University, which have injected a youthful vibrancy into the laidback and luxurious city.
With plenty of golf course, tennis courts and beaches to enjoy, there's a little something for everyone in one of South Florida's most famous seaside cities.
Attractions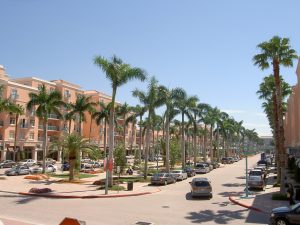 Mizner Park
Address: 327 Plaza Real, Boca Raton, FL 33432
Mizner Park, which opened in 1991, is home to an outdoor amphitheater, a movie theater complex, a wide variety of high-end department stores, designer boutiques, restaurants and, of course, the Boca Raton Museum of Art.
As one of South Florida's leading cultural institutions, the Boca Raton Museum of Art attracts hundreds of thousands of visitors from around the world annually to its galleries and programs, which include permanent and traveling exhibitions, an educational gallery and an expanded sculpture garden.
An excellent place to take your dog for a walk or spend the night out with the family, Mizner Park has a little bit of something for everyone and every budget. And although individual store and restaurant hours may vary, you can expect the park to be open from 10 a.m. to 9 p.m. Monday through Saturday and noon to 6 p.m. on Sunday. Free parking is available in four separate parking garages
Sugar Sand Park
Address: 300 S Military Trail, Boca Raton, FL 33486
Sugar Sand Park is a family favorite in Boca Raton, featuring a wide array of amenities for both children and adults. The playground, water park, carousel and interactive Children's Science Explorium will delight children, while adults enjoy the athletic courts, full gym and nature trails.
The Carousel, specifically, has become a hit with the young and young at heart since it first opened in 2005. With 30-plus chariots, the carousel resides on a large brick patio, surrounded by benches and shade trees. Like any classic carousel, it sits under a decorative tent with a multitude of lights and music making each spin that much more memorable.
The 132-acre park is open daily from 8 a.m. to 11 p.m. Monday through Saturday and 8 a.m. to 6 p.m. on Sunday, except during daylight savings time when it remains open until 8 p.m.
Gumbo Limbo Nature Center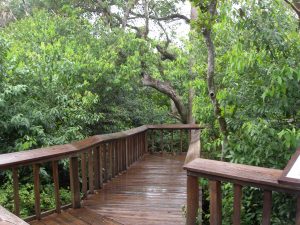 Address: 1801 N Ocean Blvd, Boca Raton, FL 33432
Founded in 1984, Gumbo Limbo Nature Center is a beacon for environmental education, research, and conservation in South Florida. Gumbo Limbo's 20 acres on the area's protected barrier island provide refuge to many varieties of plants and animals, many of which are either rare or endangered.
The nature center offers a variety of programs for children, adults, and families taught by qualified educators, biologists, and naturalists. Most programs feature small group sizes and are typically free or extremely affordable.
Last year, more than 200,000 guests visited the nature center to take a look at the thousands of tropical fish in aquariums, relax in the butterfly gardens and check on the patients at the sea turtle rehabilitation facility.
Restaurants
Truluck's
Address: 351 W Plaza Real, Boca Raton, FL 33432
An upscale seafood restaurant located in Mizner Park, Truluck's offers some of the freshest Florida Stone Crab in the area. From the Gulf Coast to your table, the restaurant pledges that their crabs make the trip from their traps to your table in less than 24 hours. Additional food and amenities include steaks, fish and an extensive win list.
Laspada's Original Hoagies
Address: 2240 NW 19th St, Boca Raton, FL 33431
Feeding South Florida since 1984, Laspada's offers some of the most satisfying sandwiches and subs in the area. A family-owned business, Laspada's has won the "Best Sub" award from numerous local publications, including the Miami Herald, Sun Sentinel and New Times. Whether you're a strict vegetarian or looking for the best meatball sub in town, this house of hoagies is the place for you.
Ke'e Grill
Address: 17940 N Military Trl #700, Boca Raton, FL 33496
With market umbrellas shading your table and marlins mounted on the walls, the Ke'e Grill offers an island themed dining experience filled with tropical décor and dishes. It has been rated one of the "World's Top Restaurants" by Zagat for the past five years. The cuisine is varied and includes everything from grilled lamb chops (one of their house specialties!) to fresh local fish, such as Yellowtail Snapper and Chilean Sea Bass.
Boca Raton Podiatry Center
Boca Raton is a city that is meant to be experienced.
In addition to its sandy beaches and sidewalk attractions, the city also offers two beautiful golf courses: the Alan C. Alford Executive Course, which overlooks the Atlantic Ocean, and the18-hole Championship Municipal Course just west of the Turnpike on Glades Road.
Well, with the help of Dr. Goldbaum, foot, leg and ankle injuries will no longer keep you from missing a day on the links or sunbathing on the beach. In fact, Dr. Goldbaum hopes the Boca Raton Podiatry Center will become as big a part of the local community has his original practice is in Delray Beach.
With some of the most advanced state-of-the-art technology in the area at his disposal, Dr. Goldbaum is able to provide patients with effective, non-invasive treatments, such as robotic cold laser therapy, every day at his offices in Delray Beach, Boca Raton and Boynton Beach.
Whether you're trying to get back on the tennis court or golf course, or simply are tired of walking in agony, remember to look up Dr. Goldbaum's name when you start feeling leg, ankle or foot pain.