Are You a Candidate for Custom-Made Shoe Orthotics?
Orthotics are orthopedic devices made of lightweight materials that range in complexity from simple shoe inserts bought over-the-counter to intricate custom-made devices crafted specifically to fit your needs.
These orthotics can help restore your ability to walk, run, and jump by reducing pain and swelling while also increasing the stability of unstable joints and providing better arch support. They can also ease problems in other parts of the body, such as the back and hips.
Other benefits of orthotics include: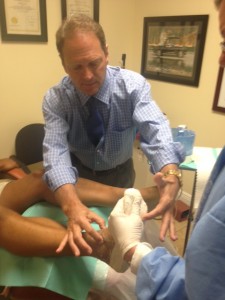 Improving the overall health of the foot and ankle
Aligning and supporting the body, including the feet and ankles
Preventing foot deformities
It's important to remember, however, that not all orthotics are created equal as there is often a large disparity in both quality and effectiveness between over-the-counter and custom-made orthoics.
Over-the-counter orthotics can serve the needs of some people adequately, but in many cases a custom-made orthotic is required for optimal pain relief. It's important to remember that over-the-counter orthotics are made for a very general foot type while a custom orthotic is specifically made to match the contours of your feet precisely and designed for the way you move.
The quality and durability of the materials, coupled with the custom molding process, contributes to a higher price tag for custom orthotics, but their durability and comfort often outweigh the cost. Like most things in life, when purchasing orthotics, you get what you pay for.
Unlike its over-the-counter cohort, a custom-made orthotic can only be manufactured after a podiatrist has conducted a complete evaluation of your feet, ankles, and legs, so the orthotic can accommodate your unique foot structure and pathology.
Although there are several different types of orthotics, most fall under the categories of either functional or accommodative.
Functional orthotics are designed to support abnormal foot biomechanics. They are usually made of materials such as plastic polymer and are good for reducing foot pronation.
Accommodative orthotics, meanwhile, can be used by anyone, and are used to relieve mild foot pain and to correct minor foot problems.
At his offices in Delray Beach, Boynton Beach and Boca Raton, Dr. Ian S. Goldbaum, a podiatric physician and surgeon with over 30 years of experience, uses biomechanical analysis and joint movement testing to assess whether or not a patient is in need of a custom-made orthotic.
By utilizing a dynamic walking scan analysis, Dr. Goldbaum is able to create a holistic picture of the forces acting on your feet and throughout your body as well as pressure distribution and foot motion as you move. Additionally, a static analysis assessment of your feet and posture is done while you are standing motionless to provide Dr Goldbaum with information regarding your weight distribution and forces going through different regions of your feet
"You want something with shock absorption properties," said Dr. Goldbaum. "From heel strike all the way through gait, we're able to offload the areas of pain. We do that with a fabricated orthotic, making an actual plaster cast of your foot to get the perfect fit."
In some cases, a heat-molded orthotic may be prescribed instead of the plaster casting. This decision is based off Dr. Goldbaum's diagnosis after having examined X-rays and scans while also taking into account direct patient feedback.
"We don't do orthotics on a first visit," said Dr. Goldbaum. "When we do a cast, we typically try some orthopedic padding and strapping first as well as some injectibles. If the pain is still persisting after a couple visits, that's when we craft an orthotic."
Once it is decided that an orthotic is right for you, the casting process will take roughly 20-30 minutes with the final product taking anywhere from a few days to three weeks to complete. At Delray Beach Podiatry, these orthotics are built to last and can often be easily adjusted over the years.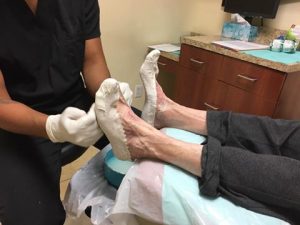 "They're going to last anywhere from 5-20 years if the patient's foot doesn't change," said Dr. Goldbaum, who notes that 98 percent of his patients have been satisfied with their custom orthotics. "We also give our patients the cast so they can craft future orthotics without additional casting fees."
In addition to these custom-made orthotics, Dr. Goldbaum also works with several other types of orthotics that are classified by the region of the foot for which they are meant. For example, AFOs, or ankle-foot orthotics, are designed to control the ankle directly, controlling its position and motion while compensating for weakness or deformities.
AFOs are one of the most common types of orthotics, accounting for about 26 percent of all orthotics provided in the United States. AFOs are often used to treat disorders that affect muscle function, such as peripheral neuropathy or strokes.
Are you a candidate for orthotics?
If you feel discomfort when you walk, it's always best have a podiatrist perform a thorough examination and assess the problem before you purchase an orthotic.
In the end, only a podiatrist can tell which type of orthotic is right for your feet, and they will work with you to make sure that you get the best protection and pain relief possible.
Remember, the longer you leave a problem untreated, the more likely the condition will worsen.
—
Follow Dr. Goldbaum on Twitter @Delray_Podiatry
The content on this website is for informational purposes only. Do not rely or act upon information from www.DelrayBeachPodiatry.com without seeking professional medical advice. If you live in South Florida and would like a consultation with Dr. Ian Goldbaum, a podiatric physician and surgeon with over 30 years of experience, please see our contact information below:
DELRAY BEACH
16244 S. Military Trail #290, Delray Beach, FL 33484
561-499-0033
BOCA RATON
2900 N. Military Trail #205, Boca Raton, FL 33431 (SOUTH BLDG)
561-499-2683
BOYNTON BEACH
8198 Jog Road #100, Boynton Beach, FL 33472
561-736-4002