10 Ways to Treat Ingrown Toenails
Your big toe can turn into the site of a big problem if the corner or side of the toenail grows into the surrounding flesh. Although they can occur in any toe, ingrown toenails are most commonly associated with the big toe and can result is pain, tenderness, redness, swelling and, sometimes, an infection.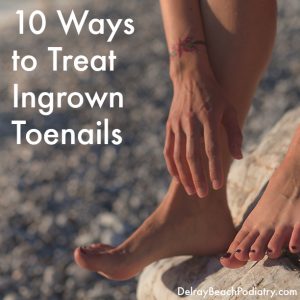 Luckily, you can usually take care of ingrown toenails on your own and in the comfort of your own home. If the pain is severe or spreading, however, a trip to the doctor may be needed in order to avoid further negative complications.
Ingrown toenails are most frequently caused by cutting nails too short or rounding the nail edges.
Other causes include:
— Wearing shoes that are too tight at the toes
— Cutting toenails straight across
— An injury to the nail or nail bed
— Curved toenails
If you have diabetes or another condition that causes poor blood flow to your feet, you're at greater risk of complications of ingrown toenails and should consult a doctor to help you with your problem.
If left untreated, an ingrown toenail can infect the underlying bone, leading to far more serious complications.
That being said, here are 10 ways to keep your ingrown toenail from getting out of hand:
10 Ways to Treat Ingrown Toenails
— A soothing foot soak 3-4 times a day can help relieve the pain and swelling caused by an ingrown toenail. If you wish to learn more about the different types of foot soaks, check out our recent article on the subject.
— It's important to remember to always keep your feet dry.
— Over-the-counter medications such as acetaminophen or ibuprofen can be used to treat pain and inflammation.
— Try to reduce pressure on the toe by wearing sandals for several days. If you must wear shoes, avoid ones that pinch the toes or place pressure on the ingrown toenail.
— Gently pull the skin away from the nail using a small nail file or other blunt device that won't cut or hurt the toe.
— Stuff tiny pieces of clean, moist cotton between the ingrown toenail and the skin to help separate them and provide a little cushioning to the skin.
— Apply antibiotic ointment to the area in order to reduce the chance of developing an infection.
— Cover the toe with a soft bandage to offer extra padding and protection while the area heals.
— If your ingrown toenail frequently returns, a doctor may need to remove part of the toenail.
— If the toenail doesn't need to be cut or removed, a doctor may instead lift the nail edge and place cotton, dental floss or a splint under it. This separates the nail from the overlying skin and helps the nail grow above the skin edge.
—
Follow Dr. Goldbaum on Twitter @Delray_Podiatry
The content on this website is for informational purposes only. Do not rely or act upon information from www.DelrayBeachPodiatry.com without seeking professional medical advice. If you live in South Florida and would like a consultation with Dr. Ian Goldbaum, a podiatric physician and surgeon with over 30 years of experience, please see our contact information below:
DELRAY BEACH
16244 S. Military Trail #290, Delray Beach, FL 33484
561-499-0033
BOCA RATON
2900 N. Military Trail #210, Boca Raton, FL 33431 (SOUTH BLDG)
561-499-2683
BOYNTON BEACH
8198 Jog Road #100, Boynton Beach, FL 33472
561-736-4002