Dr. Ian Goldbaum: Your Foot Doctor in Boca Raton
The best podiatric care in South Florida is now available in Boca Raton.
Dr. Ian S. Goldbaum, a podiatric physician and surgeon with over 30 years of experience, recently opened of his third practice in the South Florida region, the Boca Raton Podiatry Center.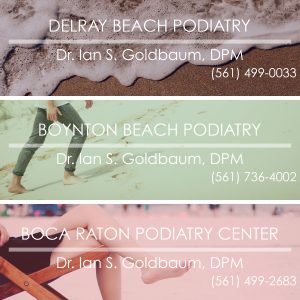 This new practice, located at 2900 N. Military Trail, Suite 205 in Boca Raton, joins Dr. Goldbaum's already established offices in Delray Beach and Boynton Beach.
With this new location, Dr. Goldbaum hopes to reach more patients in need of podiatric help in the area, while also making life easier on patients living in or around Boca Raton that previously had to drive long distances to seek out his care at either his Delray Beach or Boynton Beach office.
Dr. Goldbaum's new office will feature the same hands-on, state-of-the-art treatment that many of you have already become accustomed to, such as Robotic Laser Therapy, 3-D Gait-Scan Analysis, Amniotic Stem Cell Therapy, and many other effective regenerative treatments.
If you would like to schedule an appointment at Dr. Goldbaum's new office, please see the contact information below.
We look forward to seeing you!
A SPECIAL MESSAGE FROM DR. GOLDBAUM
Greetings,
It is with great pleasure that I announce the opening of my third location in South Florida. As a podiatrist who has been practicing medicine in the area since 1984, it's been a pleasure to see the community grow around me and my practice will continue to grow to meet that demand.
As always, I look forward to continuing providing my patients with the best care possible through non-invasive, regenerative treatments and procedures. With your help, I look forward to making my newest location in Boca Raton as warm and welcoming as my other two offices.
All the best,
Dr. G
—
Follow Dr. Goldbaum on Twitter @Delray_Podiatry
The content on this website is for informational purposes only. Do not rely or act upon information from www.DelrayBeachPodiatry.com without seeking professional medical advice. If you live in South Florida and would like a consultation with Dr. Ian Goldbaum, a podiatric physician and surgeon with over 30 years of experience, please see our contact information below:
DELRAY BEACH
16244 S. Military Trail #290, Delray Beach, FL 33484
561-499-0033
BOCA RATON
2900 N. Military Trail #205, Boca Raton, FL 33431 (SOUTH BLDG)
561-499-2683
BOYNTON BEACH
8198 Jog Road #100, Boynton Beach, FL 33472
561-736-4002